Our Front Yard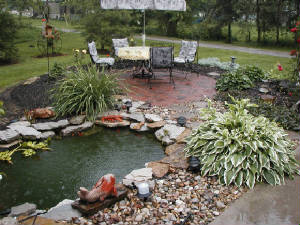 Patio / Fish pond
The Art of a creative Landscaping is a Job for an experienced Professional,We are long considered to be the one leading Landscaper contractor that is a very reliable firm. Our specialties are beautifying the exterior of your home or business with decorative distinctive items which only a true artisan can install properly. In this case, only a professional can make it exactly the way you want it.
Having 20 plus years of experience and dedication we do a professional job that your ground will look better than ever before.
When you call,for us to do your landscaping you get more than just a job, You'll get the environmental designs of an expert. The ecology isn't forgotten when, We are a skilled company,while on the job, We specialize in producing the "natural" effects. We are experts in all phases of Landscaping, whether it be for a residential or commercial properties. Let us design and create that special distinctive look that is presently missing from your home or business! Landscaping is something best done by us Professionals.
Rely on Us! R & R Quality Landscaping for all your landscaping needs.

We are fully licensed and insured, and Family Owned!
Our services includes:
Custom Design & Installation
Lawn Care
Back filling / Drainage solutions
Brick / Stone Patios, Walks, Driveways & Steps
Shrub trimming
Sod Installation
Aeration /Over seeding
Grading New yards
Decorative Ponds / Fountains
Snow Removal
Spring / Fall Maintenance
Retaining Walls
Mulch
Fences- Vinyl,chain,cedar
Computerize Graphic Designs - Before /After pictures
FREE ESTIMATES
Insured!